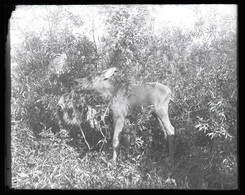 The moose, an often symbolized animal in the lore of Minnesota, has a heightened status within our state. Minnesota resorts, restaurants, coffee shops, and of course, hockey teams align their identity with this popular animal.
Despite Minnesotan's wide-spread commercial identification with the moose, recent reports from the Minnesota Department of Natural Resources (DNR) indicate that our actual living population of this species is at a heightened status of concern. Results of the most recent annual aerial survey conducted to estimate the moose population revealed that in just one year, from 2012 to 2013, the population declined 35%. According to a DNR news release, the total population has declined over 50% since 2010. As a result, the DNR has declared they will not open the 2013 moose hunting season, and that moose hunting will remain closed indefinitely.
In response to the awareness of the decreasing moose population in recent years the DNR established a Moose Management and Research Plan in 2011, and within the past seven months, have implemented a comprehensive study on the species. This past January, the DNR launched a $1.2 million dollar research project, funded by the Environmental and Natural Resources Trust Fund, to understand why there has been such a rapid decline of Alces alces in Minnesota. To launch the project, researchers captured and tagged moose with high-tech GPS collars in order to track mortality and habitat use. Over 100 adult moose that reside in the northeastern part of the state (where the population is most highly concentrated) were collared by researchers at the beginning of this year. In May of 2013, the DNR expanded their study to include the collaring of 50 moose calves.
The DNR provides regular updates from the field that report upon the vitality of individual animals, which they are able to track through the collars. The collars report precise location information and monitor body temperature and heart rate. If vital signs are lost, researchers receive a text notification, which allows for them to respond to the location and assess the conditions that resulted in loss of life.
The DNR's FAQ on Moose in Minnesota provides a great overview of the history of the species in the state, to include population distribution and hunting regulations.

*Collections Connection: While on a bird collecting trip near Thief River Falls in Pennington County in the summer of 1901, Thomas Sadler Roberts captured this moose calf with his camera (as opposed to collar):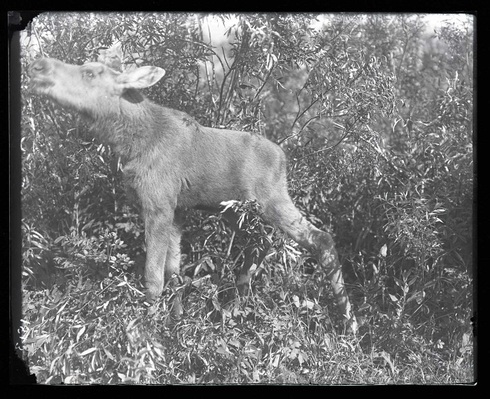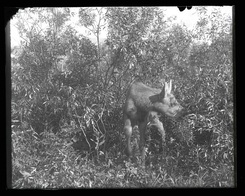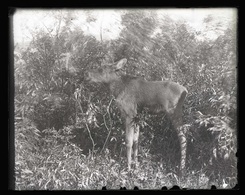 – Young moose, 6 weeks old, June 10, 1901, Thief River Falls
(From the glass plate negative collection, Bell Museum of Natural History records.)