When the Exploring project began back in mid-April, the inaugural collection of materials scanned were 2,200 botanical photographs from the collection of the Department of Botany (precursor to the Department of Plant Sciences). The final scan of this collection was completed in May, and now the task at hand is describing each unique image file with metadata so that the images can be successfully searched after they are uploaded into the UMedia Archive. To describe these images, I consult the actual cardboard mounted photographs themselves – as the genus and species of the plant pictured, as well as the location and date of when the photograph was taken, is written on the back of each mount. Another significant mark is also affixed to the back of these mounted photographs: The stamp of photographer C.J. Hibbard.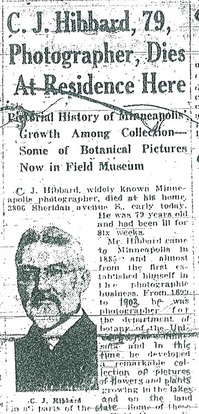 C.J. Hibbard was born near Rochester, NY, and grew up in Wisconsin. In 1876 he headed to Boston, where he became an assistant to a traveling photographer based there. In 1885 he traveled to Minneapolis and in 1899 was hired by the botanical division of the Minnesota Geological and Natural History Survey at the University of Minnesota to photograph specimens for botanical study and documentation.
Within the ledger titled "Receipts and Disbursements of the Geological and Natural History Survey Funds from August 1, 1872 – July 31, 1906,"contained in Box 2 of the Inventory of the Minnesota Geological Natural History Survey papers, we learn more detail about Hibbard's employment with the Survey, which began on an ad hoc basis, and later developed into an annual position. Beginning in 1899, monthly payments recorded in the ledger are comprised of varying amounts to Hibbard for "photo supplies," "print photos," or "photographs of plants." The largest amounts initially paid to Hibbard were in September of 1899 ($185.40) and May of 1900 ($104.43). By 1901 however, Hibbard's line item was described as "services as photographer" and he received $75 per month for his work, with an increase to $100 in September 1901, newly defined as "salary." This continued through July 1903.
What kind of work did Hibbard perform for the botanical survey? On several occasions since this blog started we have featured Hibbard's work by showcasing the flora (and fungi) that he photographed for the botanical side of the Survey from 1899-1903. Take a look at past Friday Floras to see Hibbard's work: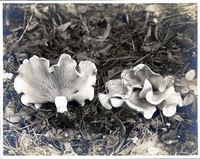 Friday Fungi
Friday Flora: In Living Color
Friday Flora: State Symbols
Friday Flora: Moss
Friday Flora: Burl
Friday Flora: Violet
First Friday Flora

Following his time working with the University and the Geological & Natural History Survey, Hibbard traveled to Cuba where he completed photographic work for the Munson Steamship Company and other firms.
Hibbard later returned to Minneapolis and established his own photography studio. Hibbard's biographic profile in the History of Minneapolis: Gateway to the Northwest (SJ Clarke Publishing Co, 1923, ed. Rev. Marion Daniel Shutter) indicated that he developed a specialization in commercial photography: "his photographs of buildings in course of construction have been found very valuable as a means of settling disputes between architects, builders, and owners."
Following Hibbard's death in 1924 at the age of 79, his wife, Sarah Hibbard, inherited the studio. Two men that had worked for Hibbard, Walter Norton and Clifford Peel, formed their own studio, Norton & Peel, Inc. in 1925. In 1928 Norton & Peel, Inc. bought out the Hibbard studio, which included 75,000 negatives, the bulk of which documented the interiors and exteriors of early buildings throughout the Twin Cities.
Norton & Peel, Inc. continued to focus on commercial photography, and amassed a collection of over 300,000 photographs prior to selling their firm in 1965. Part of the Norton & Peel photograph collection, to include Hibbard's negatives, was acquired by the Minnesota Historical Society (MHS) in 1979. To view more of the work produced by Hibbard's studio, access the images through the finding aid for the Norton & Peel collection at MHS.