It is time once again to share images from the "M" numbered, or "Mystery," negatives in the Bell Museum of Natural History records. This installment is about three images from the negatives in drawers 51-56 of the 6,918 glass plate and film negatives present in the collection. Do you remember what is contained within drawers 51-56? The first 50 drawers are filled with negatives that are sequentially ordered and well captioned. Drawers 51-56 contain a grab bag of negatives that are in no discernible order, contain little to no caption information, and the majority are labelled with a number that is preceded by the letter "M." I am happy to report that three of these images are no longer a mystery.
A few weeks ago I shared the story of the construction of the Bell Museum's beaver diorama, the specimen for which was obtained in Itasca State Park in the summer of 1917. While reading through incoming museum correspondence from that year, I came across a letter from James A. Stillwell, Superintendent of Itasca State Park, to Thomas Sadler Roberts, dated July 27, 1917, in which Stillwell described the process of mailing a registered letter to the park. He closed the letter with the following sentence, "I was very glad to know that the baby picture came out all right as I was a little afraid of the sun shining in his face would have a tendency to spoil the picture."
My mind immediately went to the mystery negatives in drawers 51-56. I remembered that a handful of the negatives contained images of children. Thomas Sadler Roberts was an obstetrician, so I assumed that the images were of children that he delivered. I keyword searched my metadata spreadsheet for "Stillwell," and sure enough, there were three records – three glass plate negatives contain images of the Stillwell baby.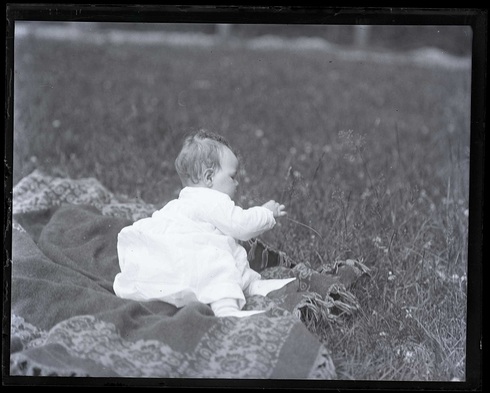 – "Stillwell baby, Roberts"

The envelope enclosures for the negatives state only, "Stillwell baby, Roberts," and each one has a different number recorded on it – 3, 5, and 11. No date. No location. Such information results in some pretty light metadata records. But now that I know that Roberts photographed James A. Stillwell's baby in 1917 while at Itasca State Park, I can add information to the date field as well as geographic location information (GPS coordinates for Itasca State Park: 47.1974579; -95.2019642) on the digital records.
There is one more level of detail that I can add – a name! A baby in 1917 would likely be three years old in 1920, a census year. The 1920 United States Federal Census for Lake Hattie, Hubbard County, Minnesota records John A. Stillwell, 46, as living with wife Francis S.,39; son Warren A, 17; daughter Ida W., 15; and sons Forest M., 10; Arthur T., 9, and Johnnie Stillwell Jr., 3.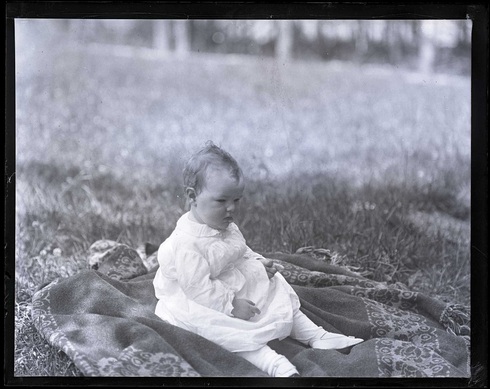 – Johnnie Stillwell, Jr., son of John A. Stillwell, Superintendent of Itasca State Park, summer 1917

I may have also found a lead on Roberts's numbering system. After straining my eyes and diligently sounding out each word (Roberts had notoriously poor penmanship), I was able to partially transcribe a letter that Roberts wrote to John A. Stillwell on July 20, 1917 regarding the baby photos:

7/20/17

Mr. J.A. Stillwell
Itasca Park

Dear Mr. Stillwell,

I am sending inclosed one print from each of the negatives of the baby taken by Mr. Richardson just before we left July 19. There is a number on the back of each picture and I have the negatives numbered to correspond. If you will write me the neg you… best by indicating by number I will have made… printed… out and send them to you. If you want some of all, all right but I think they not all… good. I am glad they came out so well.