Though a dozen or so homesteads were established near Lake Itasca in the 1880s, to include the first by Peter Turnbull in 1883, only William McMullen, who first came to Itasca in 1889, was residing in the area when Itasca State Park was established in 1891. McMullen passed away in 1898 under circumstances that were disputed amongst Itasca's early residents for decades to follow.
A monument erected in memory of William McMullen to mark his grave was photographed by Thomas Sadler Roberts during a visit to Itasca State Park in 1921. The monument reads, "Wm. McMullen 1861-1898, Pioneer, Shot Oct. 30 While Hunting at Itasca Lake, Peace and Memory."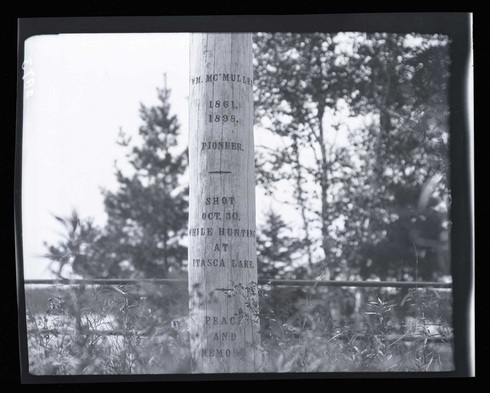 – William McMullen monument at Itasca State Park, 1921
John Korth, who erected a home near the outlet of the Mississippi from Lake Itasca in 1900 (considered the first house along the Mississippi), recalled the story of McMullen's death to John Dobie, author of The Itasca Story. Dobie published Korth's account on pages 58-59 of his book:
"McMullen and [Nelson] Rust were hunting on the west side of the lake when they flushed a bear. McMullen went off through a thicket to scare the bear into the open and in so doing got ahead of Rust. Rust was a quick impetuous man, and when he saw McMullen step out of the thicket, he shot and killed him. McMullen was buried and everyone accepted the fact that it was an accident; but Mrs. Rust and her daughter, Mrs. Martin Heinzelman, talked so much about Rust's innocence that people became suspicious. The situation was investigated and was taken to court. The prosecution produced a picture to prove that Rust could see McMullen very plainly when he shot him. The defense was able to prove that several trees had to be moved before the picture could be taken. Therefore Rust was freed.

Rust finally settled north of the Park and lived there the rest of his life. Just before he died he confided to me that he had been wrongly accused and had not done it on purpose."
The incident caused an uproar amongst local residents. Friends of McMullen accused Rust of wanting McMullen's land, and others claimed that Mrs. Rust tied a scarf around McMullen's neck so that he could be easily spotted.
The Little Falls Weekly Transcript printed an account of the incident on November 4, 1898:
"Killed for Deer. Park, Rapids, Minn., Nov. 1 – William McMullen was instantly killed by Nelson Rust near Lake Itasca. They were hunting deer together but separated and in a few moments Rust heard a rustling in the brush, and looking in that direction saw McMullen's white necktie moving. He thought it was the white flag of a deer and fired, the bullet striking McMullen near the heart, killing him almost instantly."
The St. Paul Globe reported Rust's arrest on December 10, 1898:
"Bemidji, Minn., Dec. 9. -(Special.) – Nelson Rust is under arrest charged with manslaughter in the third degree. While hunting in Itasca state park Oct. 30, Rust shot and killed William McMullen. The county attorney at the time refused a warrant, but later decided there had been criminal carelessness."
Rust was ultimately acquitted of the crime, but according to The Itasca Story, the incident incited a feud between McMullen's supporters and Rust's family that lasted until the 1930s.