It is Monday again, and as we introduced last week, a December Monday means it is time to open the mailbag to share some of the season's greetings that Dr. Thomas Sadler Roberts received during his tenure as the curator and director of the present day Bell Museum of Natural History (1915 to 1946).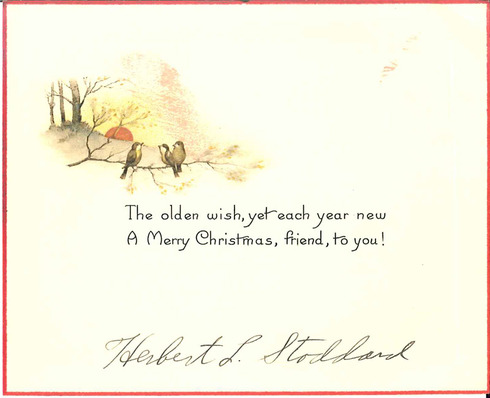 The above undated card was sent to Roberts by Herbert L. Stoddard (1889-1970). Stoddard is known as an ardent conservationist, and was an important contributor to the development of forest management in the state of Georgia. A biography of Stoddard, published in the New Georgia Encyclopedia provides a comprehensive description of his contribution to that state when he served as an employee of the U.S. Bureau of Biological Survey (U.S. Fish & Wildlife Service).
Stoddard began his career in natural history as a taxidermist at the Milwaukee Public Museum and the Field Museum of Natural History. Roberts, Stoddard, and the University of Minnesota's taxidermist, Jenness Richardson, regularly corresponded about the preparation of habitat groups (exhibits of plant and animal specimens set in their natural surroundings) for their respective museums, and often shared suggestions regarding mounts and models for mammal and bird skins, as well as other exhibition techniques. In the spring of 1922, Roberts sent Richardson to Milwaukee to meet with Stoddard and to observe Stoddard's taxidermic work in order to gain insight in to the development of a series of small, mobile, group displays.
Stoddard's extension of advice and training to Richardson was a professional courtesy towards Roberts, a return of a favor, as Roberts had assisted Stoddard with a previous matter. Stoddard planned to travel to Bonaventure Island at the mouth of the St. Lawrence River to "collect" nesting sea birds for a new display at the Public Museum. In natural history museum parlance of that era, to "collect" meant to kill for the means of preparing a study skin for a scientific specimen collection, or to prepare a mounted animal for a museum display. In February of 1922, Stoddard appealed to Roberts for assistance with a legal matter related to the act of "collecting."
After the passage of the Migratory Bird Treaty Act in 1918, the "collection" of migratory birds for museum display required a scientific collecting permit. By 1922, as a long-time member of the American Ornithologists' Union and in his position as a director of a natural history museum associated with a university, Roberts was regarded as an ornithological expert, and was often sought out by taxidermists and other museum workers to provide approval of applications for federal, state, and international collecting permits. Depending on the agency, the "testimony" of one or more "well known" ornithologist(s) had to accompany an application for a permit. The U.S. Bureau of Biological Survey, which granted federal permits, state fish and game departments and other agencies, as well as the Canadian government, recognized Roberts's testimony.
Though he already held a U.S. federal scientific collecting permit and a state permit for Wisconsin, Stoddard had to submit an application for a scientific collecting permit with the Canadian government in order to collect birds on Bonaventure Island, and needed Roberts's testimony to complete the application.
From the outgoing correspondence in the Bell Museum of Natural History records, we learn of Roberts's regard of Herbert Stoddard in a "To Whom it May Concern" letter to the proper Canadian authorities, dated February 2, 1922:
"This is to state that I have known Mr. Herbert L. Stoddard of Milwaukee, Wisconsin for several years, formerly while he was connected with the Field Museum of Natural History in Chicago and latterly in his present position as First Assistant Taxidermist at the Public Museum of the City of Milwaukee. I am able and pleased to testify, both from personal knowledge and from information gained from others competent to speak, that he is not only one of the most expert museum taxidermists in the country but is in addition a well trained and capable field naturalist, especially in the study of birds. He has published various articles and notes in regard to the birds of the areas in which he has worked. He is a reliable and trustworthy man.

The Public Museum of the City of Milwaukee, with which Mr. Stoddard is connected, is an exceptionally fine and active institution with large and varied collections that are well prepared and effectively exhibited in a commodious building built for the purpose by the City of Milwaukee. The Museum also carries on a large supplemental educational work through various lecture courses to the general public and to school children."
A written testimonial in support of a permit application and the offer to provide training and technical advice in return is one of several examples of professional courtesies exchanged between Roberts and Stoddard over the years. The correspondence – and the exchange of Christmas wishes – reveals a congenial relationship between colleagues who thoroughly enjoyed the nature of their work.