If you have been a regular follower of the Exploring blog, you likely have noticed the black and white color scheme apparent throughout the posts, indicative of the archival materials and the time period we are dealing with. Though the glass plate negatives and the black and white photographs that document our state flora and fauna are amazing images, they lack the essence of what makes nature so vibrant – color.
Many artists, at various points, provided illustrations and photographs to accompany the publications and reports produced by the biologists and geologists employed by the Minnesota Geological and Natural History Survey. Due to the printing methods available at the beginning of the 20th century, the publications that included these images of our natural environment were all printed in black and white.
After spending monochromatic month after monochromatic month processing the natural history collections that are the subject of the Exploring project, imagine the visual shock I felt when I came across original color illustrations of botanical specimens in Box 13 of the Department of Botany collection: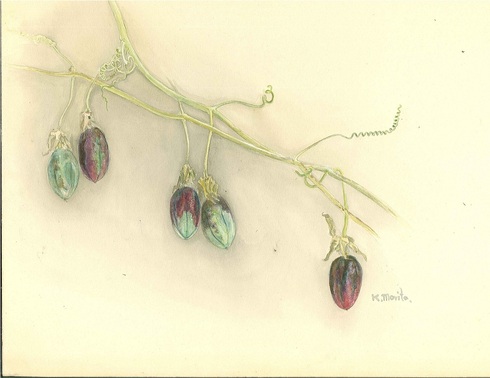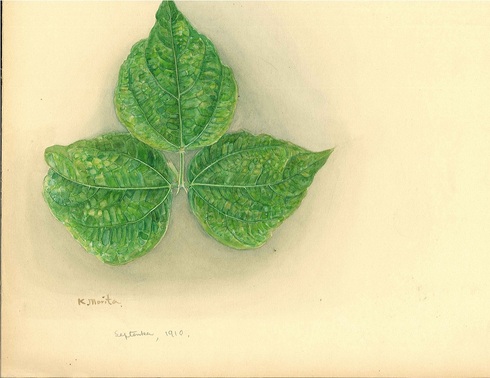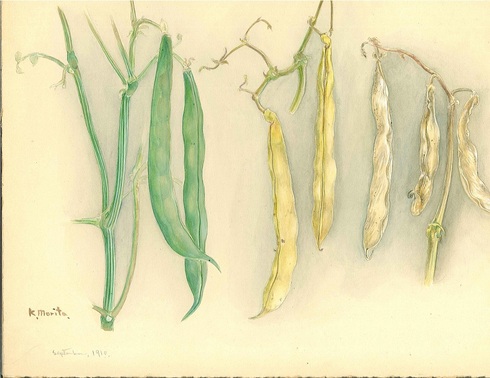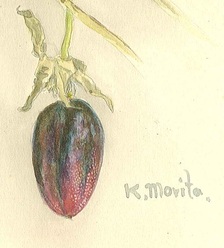 Notice the signature at the bottom of each illustration. In 1904, Kako Morita, a graduate of the University of Tokyo, was hired by Henry Nachtrieb, professor of Animal Biology and State Zoologist, and Thomas Sadler Roberts, then a contributor to ornithological studies for the Survey, to paint fish and birds to be used to illustrate reports on zoology and ornithology. Only a few traces of Morita's connection to the University have yet been found: a line of credit as the artist of the illustration of an Evening Grosbeak included in T.S. Roberts's Occasional Paper #1, a brief article in the October 3, 1904 edition of the Minnesota Alumni Weekly, and a mention by Walter Breckenridge in an article in a publication of the Minnesota Ornithological Union. As evidenced by the presence of these images of beans and berries, Morita produced illustrations of botanical specimens for the Department of Botany as well.
The connection between nature and art endures today at the Bell Museum of Natural History. In addition to the signature dioramas, the Bell has a gallery space devoted specifically to art, the Jaques Gallery. In fact, a new exhibit that promotes nature-inspired illustration is opening next week: Something Sketchy: Sketches inspired by the Bell Museum Collections. The exhibit will feature work produced from the Bell's Sketch Night program. Opening night is Thursday, September 5th starting at 6:00pm.