Get out of my nest!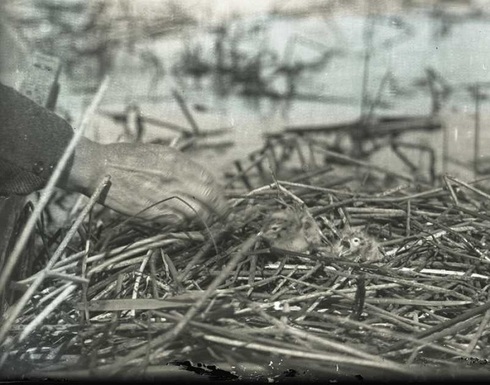 – 357, Franklin's gulls [juv.], Heron Lake, Minn, 6-14-99 (glass plate negative)

This young Franklin's Gull nesting on Heron Lake in Jackson County, MN doesn't seem too eager to have a visitor. The hand reaching in to greet these birds belongs to either Thomas Sadler Roberts or Leslie O. Dart, who were observing birds in Jackson County in the summer of 1899.
After a long career as a doctor, T.S. Roberts followed his passion for ornithology and became Director of the Museum of Natural History (former name of the Bell Museum) at the University of Minnesota in 1919. Roberts' personal study materials, writings, and photographs from the pursuit of his avocation became part of the museum's collection, and are now preserved at the University Archives.