Last week I shared some of my findings from background research on the Bell Museum of Natural History. After finishing the first book consulted, the Annals of the Museum of Natural History, I moved on to book #2: a biography of Thomas Sadler Roberts, the author of the Annals, and Director of the Bell Museum of Natural History from 1919 to 1946. A Love Affair with Birds: The Life of Thomas Sadler Roberts, written by Sue Leaf and published by the University Press, was not only a charming introduction to the life of this passionate bird-lover, but was also the perfect introduction to begin work on Exploring Minnesota's Natural History .
It is fortuitous that this grant project, which will make Roberts's journals, personal and professional papers, and ornithological research digitally accessible, launched at the same time as the release of Leaf's biography. Her book was fresh in my mind as I started to review the first set of image files from the scans of the glass plate negatives from the Bell collection. To date, over 1,000 glass plate negatives have been scanned (with 5,000 more to go!). As I began to routinely enter titles and location data to describe these images of birds and nests in rural locations (Heron's Nest in distance, birds flying, 1898, Heron's Lake), I suddenly realized just what I was looking at.
I reached for Sue's book (which I keep on the bookshelf above my desk), and found the section that recalls a trip that T. S. Roberts took to Heron Lake in Jackson County, Minnesota in the spring of 1898. The glass plate negatives made by Roberts during this trip produced images that provide a stunning visual compliment to Sue's eloquent prose:
From Chapter 9, The Empty Day:
"In 1898, the year he turned forty, Roberts returned to Heron Lake, this time with camera equipment in tow. The camera was a new tool for him, and this was the first time he had tried it afield. He had bought a Long Focus Premo camera that could be used to take shots of objects at some distance… Roberts was the one of the first in Minnesota to turn a lens on the feathered world…"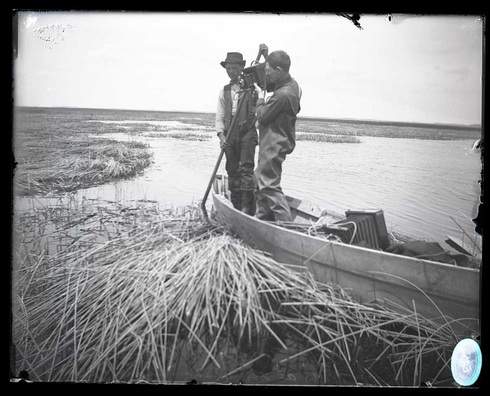 –C.A. Hoffman, T.S. Roberts's travel companion "taking a Coot's nest" on Heron Lake, 1898

"Until recently, exposed plates–no film was used in this early camera–had had to be developed while still wet, so an outdoor photographer needed to haul a "dark tent" with him, in addition to everything else. But in the late 1880s, George Eastman had invented a dry plate that did not need immediate developing, and this accelerated the interest in outdoor work."
"Roberts's new camera was heavy, built of solid mahogany with a black leather case. It required an awkward tripod to hold it steady. The thick glass plates that served as "film" were carted out in a sturdy wooden box. The whole assemblage was unwieldy; thus, it was a very determined photographer who attempted to transport such a contraption on a train, in a wagon, over hill and dale, and in a boat across a lake. It was also a carefully balanced photographer who waded through the muck of a marsh to get his shots, because to stumble and fall would spell disaster to the expensive equipment."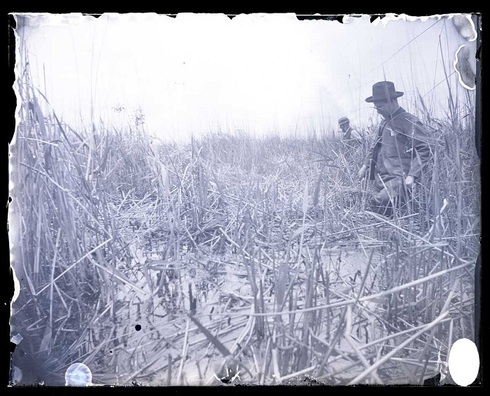 –C.A. Hoffman and Tom Miller wade through the reeds in Heron Lake to spot a Heron's nest in 1893 (accompanied by T.S. Roberts).

Other records within the Bell archival collection further describe the Heron Lake trip, and convey Roberts's dedication to bird observation as well as to the then highly involved process of photography. To prepare for his visit, Roberts corresponded with Thomas Miller, who lived in the region. From Thomas Miller, March 30th, 1898, Box 12, Folder 134, "In regard to your plan of marking down nests and taking Photographs of them. I was talking this matter over with Mr. Nelson, who is a duck hunter, and should -you-so desire, I think you can hire him to look up the nests of waterfowl and mark them so they can be readily found. He was born here and knows Heron Lake thoroughly, having shot ducks and trapped rats and mink on every corner of it. He has a light boat weighing about 20 lbs. which he could use where he could – not – evade… Photographs of the nest and eggs would enhance the value of the work very much." Further correspondence reveals that Roberts hired Abe Nelson to do a preliminary survey of Heron Lake and note the locations of nests and presence of birds in the area prior to Robert's arrival.
Roberts also kept a journal of his trip, which is in Box 5 of the Bell Museum collection. He writes on May 27, 1898, "Left Minneapolis on evening train Monday the 25th inst. company with Mr. C.A. Hoffman for Heron Lake, MN on a photographing and collecting trip." After that first sentence I was unable to decipher much else in Roberts's notes save for a few key vocabulary words: photography, Miller, Hoffman, poling, red-headed duck, etc. Fortunately, Penelope Krosch (former University Archivist) took it upon herself to transcribe many of Roberts's journals. The transcriptions were printed and distributed by the Bell Museum of Natural History in 1991 in a volume titled, Shotgun and Stethoscope: The Journals of Thomas Sadler Roberts. The account of the late May 1898 Heron Lake trip is on page 247:
"Early next morning got a team and after calling on Thomas Miller at his farm went to Mr. Wood's place where we expected to stay during our visit. Were soon settled and Abram Nelson a young Swede whom I had engaged in advance appearing about 11'oclock we got off directly after having early dinner and went to the nesting ground of the Night Herons in the far side of the Lake. We went in two boats – Hoffman and Nelson in one and I with a Charles Hamilton, game warden here in another. After an hour or two of poling and rowing we came opposite the heronry and pushing and pulling our boat as far as possible into the reeds left them and waded the remaining distance – perhaps an eight of a mile and through water and mud knee and sometimes thigh deep and part of the way through quill reeds much higher than our heads. The sun was very bright and it was intensely hot down among the reeds…"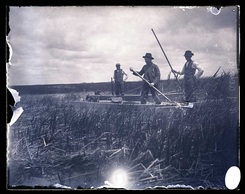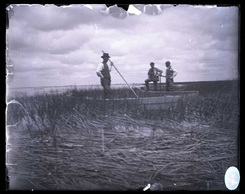 1) C.A. Hoffman, Tom Miller, and Abe Nelson on boat in Lake Heron, 1898
2) T.S. Roberts, Tom Miller, and Abe Nelson on boat in Lake Heron, 1898
"The sight at the Heronry repaid us all the trouble however. There seems to be many hundreds of the herons and at an approach they rose in a cloud with a great squawking and remained flying about during our stay occasionally scouting back on the nests at some distance…."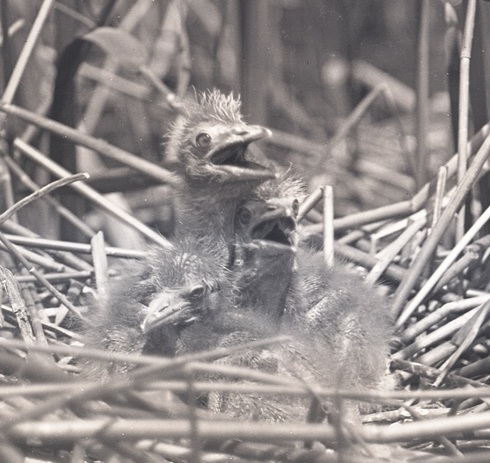 – Young Night Herons in nest, Heron Lake, 1898
"Leaving the herons after photographing a number of the nests we made our rather laborious way back to the boats and went with much poling and dragging of boats to a view of the Red head duck which Nelson had found some days before. It contained 11 eggs. When we arrived the eggs were entirely covered with fine grass and down… After photographing the nest we left it to return again tomorrow… We had now exhausted all our plates and returned home. We saw all the usual inhabitants of such a marsh during an afternoon – Coots, Grebes (one Long eared Grebe) blackbirds of both kinds, Marsh Wrens, Black Terns, a few Forsters Terns, one or two Franklin Gulls, etc."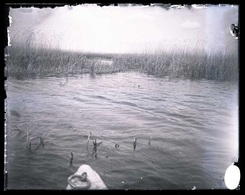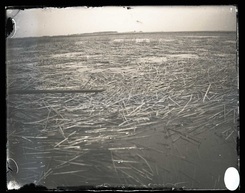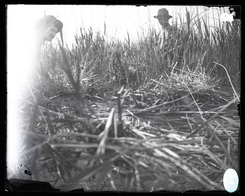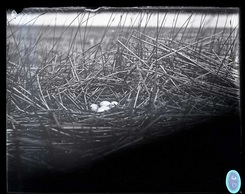 (click on the image to see a larger pop-up version)
clockwise from top:
1) View from the boat on Heron Lake, 1898
2) "Poling" the boat along in search of nests on Heron Lake, 1898
3) Wading in the reeds to locate a duck nest, Heron lake, 1898
4) Duck nest, Heron Lake, 1898
Navigating outdoor terrain with heavy camera equipment proved to be a formidable task, as was trying to develop the glass negatives after their shoots. Roberts described this in his journal:
"Thomas Miller called in the evening and we spent some time trying to develop some of the plates in our bedroom but conditions were not very satisfactory and we were somewhat disappointed with the results. On the 26th (Thursday) Mr. Hoffman went to town to visit the local photographer to see about developing our plates and getting some needed material and equipment." Roberts went out on another excursion that day, which he also reported, "Returned to the house at noon having exhausted all my plates…. Found Hoffman had fixed up the cellar as a dark room and was developing plates. Some fair and some poor."
On Friday, May 27th, the photographers were confined indoors, "Woke up… to find pouring rain and a heavy wind – the worst possible conditions for avian photography."
Roberts brought his camera along on several additional bird observations throughout the summers of 1898 and 1899, and shared his photographs of a wide variety of birds at the American Ornithologists' Union meeting in Washington D.C. in the fall of 1899. Frank Chapman of the American Museum of Natural History in New York City, a friend and colleague of Roberts, persuaded Roberts to write an article on nature photography for the first issue of Chapman's soon to be launched magazine, Bird-Lore (former name of Audubon Magazine). Roberts's article, "The Camera as an Aid in the Study of Birds," appeared in the first issue in February 1899 (Bird-lore, Google Books page 6), and continued in the second issue in April 1899 (Bird-lore, Google Books page 36).
In the article, Roberts shared his passion for photography:
"Anyone having an earnest interest in both natural history and photography can find no more delightful and profitable way of spending leisure hours than by prying into the secrets of Dame Nature with an instrument capable of furnishing such complete and truthful information as the camera…

Words alone fail to tell the story so clearly, so beautifully, and so forcibly."