Back in November I shared the only then known image of turkeys from the ~6,900 glass plate and film negatives in the Bell Museum of Natural History records. A good portion of the negatives were produced by Thomas Sadler Roberts from 1898 to the mid-1940s. Roberts captured hundreds of species of birds on multiple occasions while out in the field. Yet there was only one image of turkeys.
I naively accused Roberts of disliking the fowl, Meleagris gallopavo, without looking in to the history of the species. As it turns out, there is a reason to suggest why Roberts produced only one negative of turkeys in over four decades of fieldwork – there weren't many turkeys living in Minnesota.
My error in assumption was brought to my attention by a recent article in the Star Tribune. "Minnesota's wild turkeys: A wildlife success story," by Doug Smith, recalls the demise of the wild turkey in Minnesota in the late 1800s due to the rising population of settlers and unregulated hunting. Despite a few attempts to reintroduce turkeys raised in other states in the 1920s, and again in the 1950s, none survived. It wasn't until 1971, when the Department of Natural Resources (DNR) released 13 Missouri wild turkeys, that the repopulation of Meleagris gallopavo throughout the state was revived. For three decades following, the DNR released over 5,000 wild turkeys in Minnesota.
We did come across one additional image of turkeys after all of the negatives in the Bell Museum records were scanned. This image is from a glass plate negative that was not indexed and has the illusive "M" number caption which appears on the envelope enclosure. A series of negatives marked with the prefix "M" are still a mystery to us, as is "Englis Glen farm," where this particular negative of Roberts's daughter Catherine and son Carroll with turkeys was produced.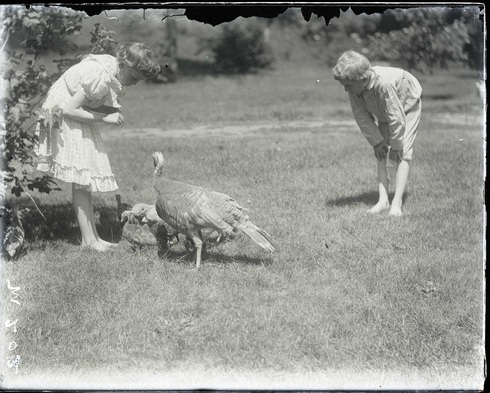 – Catherine and Carroll feeding turkeys at the Englis Glen farm, June 1907.

I was surprised to learn that there once was a time when turkeys were rare in Minnesota, as during certain parts of the year I see turkeys on a daily basis. Though they have yet to reappear this spring, last fall there was a family of turkeys living on the west bank of the Mississippi River that would occasionally drop in for a tour of the University of Minnesota campus.


Campus turkeys from the view from my office window, Andersen Library, University of Minnesota – Twin Cities, Fall 2013: