Another collection is live on the UMedia Archive and is ready to be researched!
Collection #0895, Minnesota Geological Survey Field Notebooks, contains over 500 field notebooks kept by geologists and other scientists that worked for the Department of Geology and the Minnesota Geological Survey. The earliest notebook dates back to 1877 and contains the chemical evaluations and notes of the Survey chemist, Stephen F. Peckham.
You will also find notebooks created by George M. Schwartz, George A. Theil, John W. Gruner, Frank F. Grout, and more. The four men previously mentioned are pictured in a Department of Geology faculty photograph below:
Department of Geology 1953-1954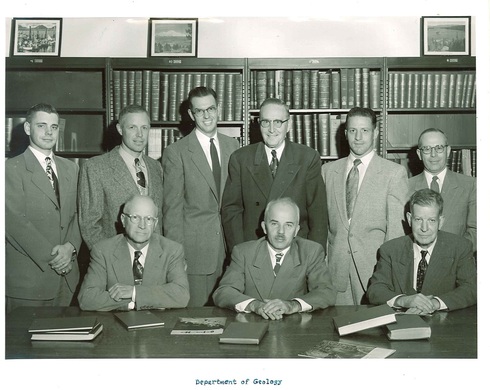 (Left to Right)
Standing – Alan F. Schneider, H.E. Wright Jr., F.M. Swain, George A. Theil, Eiler Henrickson, S.S. Goldich
Seated – G.M. Schwartz, J.W. Gruner, F.F. Grout

With snow descending upon the Twin Cities once again, why go outside when you can stay in your PJs and page through decades of geological research? Faults, fossils, and fractures, oh my!