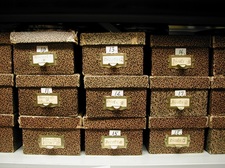 When we began scanning the Ned L. Huff Lantern Slide Collection a few months ago, we had very little knowledge of just who Ned Huff was other than that he was a botany professor at the University. Ned was briefly mentioned in a departmental history titled The History of the Department of Botany 1889-1989, is relatively vacant from Google searches, and there is no file bearing his name within the extensive biographical files at the University Archives.

The following images from Huff's hand-colored lantern slides are captioned "home garden." Where was his home? With whom did he live? Who was Ned Huff?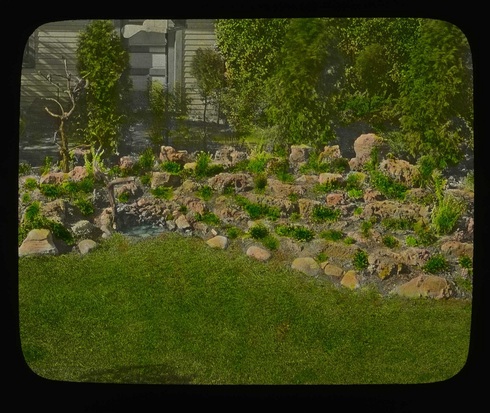 – Home rock garden, just planted, September 1930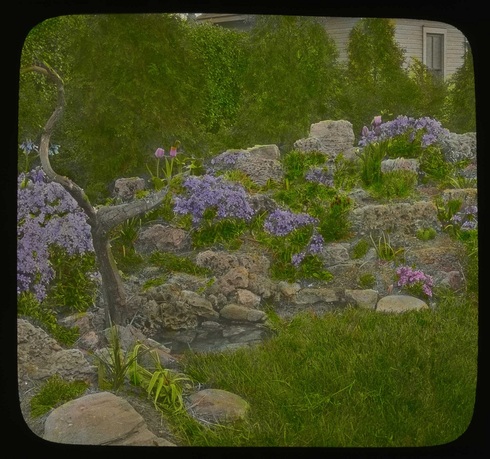 – Blue Phlox in home rock garden, May 1931
</br.
In my quest to answer all of the questions I had about Huff I first turned to the Digital Conservancy, the definitive source of historical administrative records for the University of Minnesota. After browsing through a series of Board of Regents Meeting Minutes, where the only mention of Huff is as a line item in faculty salary adjustments and approvals, I came across an article published in the Minnesota Alumni Weekly on October 23, 1916, which lists publications of University faculty. Huff published a paper titled "Copper sulfate treatment of St. Paul water supply" in the June 1916 edition of the Journal of American Water Works Association.
He had a salary, and he published a paper. I thought to myself, "There has got to be more information on the illusive Huff!"
The Board of Regents Minutes provided a few more details about Huff, though they are brief. "Ned L. Huff retired as Asst Prof Emeritus Botany" was found in the June 16, 1945 Minutes. In the Regents Minutes for October 11, 1958 Huff is listed as a donor to the University, "Professor Emeritus Ned L. Huff, 400 colored slides of botanical subjects, valued at approximately $2800."
It wasn't until I opened the Minutes of the University Senate for June 4, 1964 that I found a detailed biography of Ned L. Huff – his obituary.


Ned L. Huff was born on September 21, 1876 in Pendleton County, Kentucky to Nancy Jane Elliot Huff and Michael D. Huff. The Huff family moved to a homestead in Morrison County, Minnesota in 1880 when Huff was four years old. The family later moved to Little Falls, where Ned attended high school. Following his graduation in 1897, Huff attended the Minneapolis Academy to complete prerequisites required for acceptance to the University of Minnesota. He completed his B.A. at the University in 1903. After a year of teaching high school at Fergus Falls, Huff returned to the University as a graduate assistant to the Chair of the Department of Botany Conway MacMillan and completed his M.A. in 1905. He served as Instructor of Botany from 1906-1910, after which he was named an Assistant Professor of Botany, a position he held until his retirement in 1945.
During his 39 year career at the University, Huff taught the primary courses in general botany and in 1935 initiated a long-running course titled, "Minnesota Plant Life" which was given as a night course through the General Extension Division. The obituary described Huff's dedication to his courses –
"The course in Minnesota Plant Life, intended for teachers, camp and scout leaders, and for all who wished to know more about the native plants and habits of Minnesota, was his great love; it gave him free opportunity to select illustrative material from among the about 1,200 photographic slides which he had made of Minnesota plants and had spent endless hours hand coloring, before the advent of color photographs. He has used these earlier in illustrated public lectures at the Museum of Natural History and Minnesota Botanical Club at the Minneapolis Public Library, and had discovered their great potential educational value. This course also provided an opportunity to display the wealth of pressed and otherwise preserved plant specimens which he had collected and prepared during his summer vacations on camping trips throughout the state, especially in the northern counties."
In addition to his devotion to botanical instruction, Huff pursued the study of ornithology and operated a bird banding station at his home in south Minneapolis.
Huff was a bachelor his entire life. He kept his home for his father, mother, and three sisters. He passed away on January 22, 1964.
The obituary provided a final thought on the life of Huff:
"While he lived a quiet life, unmarked by any spectacular happenings, his devotion to his chosen work has left its mark on his many students. His thoughtful and cheerful personality and devotion to his family and to his many friends are still fondly remembered."
Huff's devotion to instruction and Minnesota flora lives on with the Exploring Minnesota's Natural History grant project. The over 5,000 lantern slides that he once used to teach thousands of University students and citizens of Minnesota about ferns, flowers, trees, and grasses, will soon be digitally accessible to all who want to learn about the plant life of our state.
Although Huff was formerly characterized as living a life "unmarked by any spectacular happenings," his lantern slides tell a different story. From his home garden in southeast Minneapolis, to the Minnesota Seaside Station in British Columbia, at Rocky Mountain, Yosemite, and Sequoia National Parks, and up and down the state of Minnesota, the slides capture the beauty of the natural landscape as seen through the vantage point of a spectacular botanist, photographer, artist, and contributor to the preservation of natural history.

Now that Exploring has found Ned, we've only just begun to share his story. More spectacular slides to come…