In February of 1916, Thomas Sadler Roberts, associate curator of the Zoological Museum, released the first of what he termed "Occasional Papers," a series of bulletins issued from the "Zoological Division of the Geological and Natural History Survey." The content of volume number one, titled "The Winter Bird-Life of Minnesota," was actually first published in the December 1915 edition of "Fins, feathers and fur," a publication of the Minnesota Game and Fish Commission (now known as the Department of Natural Resources).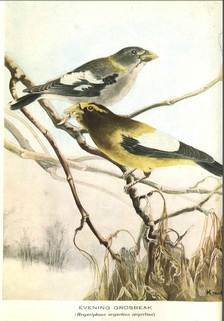 Roberts's paper provides an illustrated annotated list of the "permanent resident" and "winter visitant" birds found in Minnesota. The paper opens with a beautiful full-color illustration by artist Kako Morita that shows the distinct yellow coloring of the Evening Grosbeak.
In the preface Roberts shared his purpose for the publication:
"One of the considerations in presenting this paper on our winter birds is the hope that it will bring to the Natural History Survey much additional information in regard to the bird life of the state. All notes and records will be most welcome and will be so preserved and filed that they will find their way into future publications, credited to the persons reporting them. Address the author, care of the Zoological Museum, University of Minnesota, Minneapolis, Minn."
Roberts's colleague, Frank M. Chapman, Curator in the Department of Birds at the American Museum of Natural History in New York City and publisher of Bird-Lore magazine (precursor to Audubon magazine), wrote a review of "Winter Bird-Life" which he included in the May-June edition of the magazine. Chapman wrote, "This attractive-looking brochure is both authoritative and popular. It is therefore of equal value to the student who desires only its contained information on distribution for faunal purposes, as well as to the local bird-lover who would know when and where to look for birds during the winter in Minnesota."
The incoming correspondence contained within the Bell Museum of Natural History records includes many letters from all over North America that include requests for copies of the "occasional paper." From Philadelphia to Saratoga and Winnipeg to the University of Wisconsin, readers of Bird-Lore wanted to get their hands on Roberts's "Winter Bird-Life."
The bulletin also became a much sought-after reference tool to the growing base of Minnesota citizens interested in bird study. Dozens of letters were written to Roberts to request materials and literature on birds. Without charging any fee for the publication itself or the postage to send it, Roberts forwarded copies of "Winter Bird-Life" to any person that requested it (that is up until the mid-1920s when the supply was exhausted).
Incoming museum correspondence captures how the bulletin was appreciated. Caroline M. Young, who wrote to Roberts from Staples, Minnesota on January 25, 1920, was especially thankful to have the illustration of the Evening Grosbeak, as the species were "winter visitants" to her vicinity that year:

"Dear Doctor Roberts:

I wish to thank you for your great kindness in sending me this handsome booklet "The Winter Bird-Life of Minnesota".

It was exactly what I wanted, or what we wanted, for many folks here in Staples, beside myself, were interested in this beautiful bird. I have shown the booklet right and left.

I wish you could have seen the lovely creature today. A heavy snow was falling, the trees were laden with the white masses, yet the box elders all up and down our street were peppered thick with the pretty yellow things.

Why call them Evening Grosbeaks, I wonder, they are out all hours of the day.

Again thanking you for your thoughtfulness, which I greatly appreciate."