As I mentioned yesterday, dozens of negatives in the Bell Museum records aren't about nature, but are of a personal nature as they contain images of Thomas Sadler Roberts's family. The presence of family portraits amongst portraits of birds and mammals suggests the level to which the "out-of-doors" was a part of Roberts's life.
In 1917, Both of Roberts's sons, Thomas Cleveland Roberts (Tom), and John Carroll Roberts (Carroll), entered the service during the Great War, World War I. Both Tom, 28, and Carroll, 23 were stationed in the eastern United States for the entirety of their service and did not have to face the front lines in Europe.
At different points in Tom and Carroll's careers in the service, the elder Roberts took portraits of them in uniform.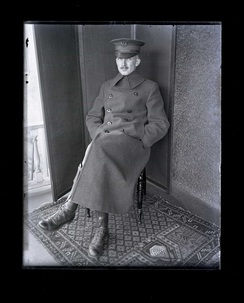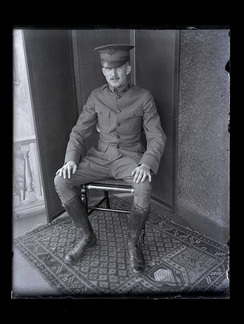 – Tom Roberts, November 16, 1917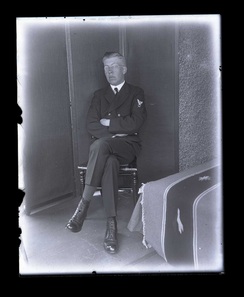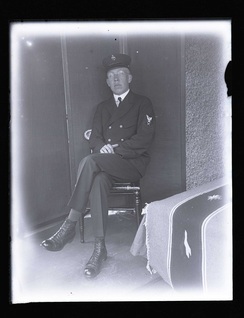 – Carroll Roberts, 1918

While his sons were away in the military, Roberts continued his work at the museum. Diminished University resources during the war had little effect on Roberts as his position of Associate Curator of the Zoological Museum was not a paid one. At the time, Roberts's work – preparation of specimens for a study collection, development of habitat groups, writing for ornithological publications – was all supported by a patronage fund comprised of donations from prominent Minnesota business leaders. The fund was organized by one of the top contributors – James Ford Bell. The University would not authorize a regular salary for Roberts or establish a budget for the zoological museum until 1919.
During the spring of that same year, 1919, the professional progress at the museum was followed by good news in Roberts's personal life. Tom's military service had come to an end and he was returning home to Minneapolis with his wife Dorothy, whom he had met and married while stationed on the East Coast. (Carroll remained in the Navy, stationed in Charleston, South Carolina.) After receiving the news that his eldest son was to return home, Roberts wrote to Tom on March 22, 1919 to welcome his homecoming. Never too far removed from his work, Roberts also seized the opportunity of his son's location – New York – to ask of him a favor:
Thomas Sadler Roberts to son Thomas Cleveland Roberts, March 22, 1919: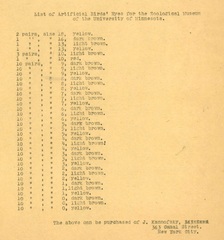 Dear Tom:

Dorothy's telegram in answer to your mother's came this morning and we are much delighted to hear that you are "out" and that you will both be home before long. We are impatient for you to come and are anticipating great pleasure in having you with us. Spring is coming on a pace and we can all have some good times together…

I must ask a favor of you. We have great trouble in getting Museum supplies from eastern dealers. They are unbusiness like [sic] lot and pay little attention to orders until they get good and ready. Will you please go to the address on the inclosed slip and purchase the list of artificial eyes there specified. Get them at the time and bring them with you. If you leave the order to be filled it will be fall or next winter before they come. This man Kannofsky makes the best eyes and Richardson wants them purchased of him. R. says there is usually a 50% discount from list but you will have to pay what he asks. R. figures the list about $12 list prices. I inclose a check for $55 and you can return the difference if any. Sorry to bother you but we need the eyes this spring. Do you need any money?* If so let me know and I am ready. Much love and best wishes to you both and hoping to see you before long."
According to the Annals of Museum of Natural History, University of Minnesota 1872-1939, three medium-sized habitat groups were completed in 1919 by museum taxidermist Jenness Richardson: Blackburnian Warbler, Scarlet Tanager, and Sparrow Hawk. I wonder if any were prepared using the artificial eyes delivered by Tom Roberts's favor?

* It is interesting to see that parenting has changed very little in a matter of nearly 100 years, as "Do you need any money?" is a question ever-present in communications from my own father.