Associate Curator and Director were not the only titles that Thomas Sadler Roberts held during his tenure at the University of Minnesota. Beginning in 1916, just one year after he started at the U, Roberts also added the title of Professor of Ornithology to his resume.
The course, "Ornithology" was offered through the Department of Animal Biology. According to the course description, which can be found on the Digital Conservancy in the collection of Course Catalogs, Bulletins, and Course Guides, the course was originally limited to 10 students and "bird or field glasses" were required. The description includes a short summary of the course: "Study of structure, classification, and habits of birds with special reference to birds of Minnesota. Considerable time devoted to field study."
Little detail is offered in the course description, which is why it is important to turn to other archival records to learn more about the bird course. Thankfully, correspondence in the Bell Museum records provides a detailed explanation, straight from the Professor himself.
What follows is a transcription of Roberts's response to an inquiry from Franklin Kennard of Newton Centre, Massachussetts regarding the "bird class." Illustrating the letter are photographs of the 1923 University Bird Class that were found within the collection of glass plate negatives in the Bell Museum records.

Thomas Sadler Roberts, to Franklin Kennard, May 25, 1923: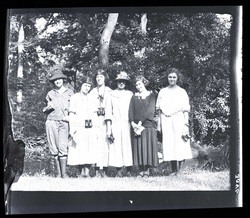 My dear Mr. Kennard, Your letter of May 8th asking information in regard to the courses given here in Ornithology and Mammalogy was received sometime ago…

This is the eighth year that I have been trying to teach a small elective class something about birds. The class is limited to ten students and is elective or optional. Freshmen are not eligible as one year of general zoology is required first (which, I may say, is not necessary). The students taking the course have been mostly young women preparing for teaching. The course is at present six months in length; six hours each week; and gives six credits. It begins in January and ends about the middle of June. The first three months are devoted to the lectures on The Bird from the biological view point and to the identification and study of specimens (skins), about 250 species mostly Minnesota birds. The spring term of nearly three months is devoted to field work. A small class is necessary to make this field study worthwhile. I declined to handle a class larger than ten and this number is too large. Of course with assistants a larger group could be divided into sections. Twice a week is none too often to go out especially during the migration season. We usually get out three or four times including an occasional Sunday. The work is a burden for an old man like yours truly but I have concluded it is worthwhile as my students are now turning up in the high schools of this and other states where they are putting into practice the knowledge gained here. I have had some young men also and for the most part they have turned out fairly well. But the women are the most earnest.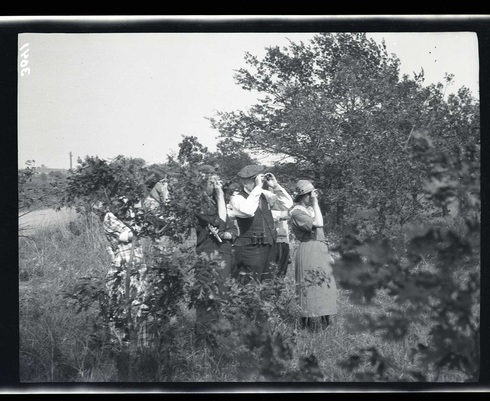 – Thomas Sadler Roberts and the University Bird Class 1923

Dr. Allen at Cornell is I understand giving a very fine course but his classes are large and this must make the individual work that is essential rather difficult. With a small class the teacher can get directly at each student and incite him or her to accurate work. When I have a group of students who really want to learn it becomes a pleasure, especially fieldwork. A large city is a drawback to good fieldwork for in order to reach suitable localities it is necessary to go long distances. This is overcome by using automobiles…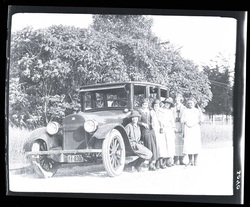 To provide adequate fieldwork opportunities, Roberts took his students off campus, and traveled in his automobile, or "machine" as he often referred to it, to Frank W. Commons's residence on Lake Minnetonka, and to the Long Meadow Gun Club, south of Minneapolis.
The course in ornithology was offered through the 1940s. The Bell Museum records contain outlines of Roberts's lectures, notes from field trips, tests and other class records, and correspondence and mementos from students.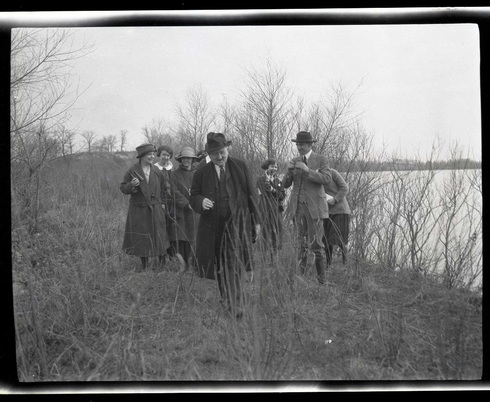 – Thomas Sadler Roberts, Professor of Ornithology, leading his "bird class" in fieldwork, 1923.