In spirit with the season of gift giving, I thought I would share a unique type of gift commonly received by the Bell Museum of Natural History when it was known as the Zoological Museum from 1915-1928. Sure the museum received monetary donations to support the installation of habitat groups and other natural history displays, but I'm referring to another type of gift – animals and birds.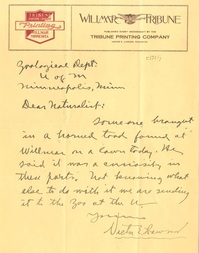 A 1921 letter from Victor E. Lawson, proprietor of the Willmar Tribune, to "Zoological Dept. U of M" provides a good example of this form of generosity:
"Dear Naturalist,

Someone brought in a horned toad found at Willmar on a lawn today. He said it was a curiosity in these parts. Not knowing what else to do with it we are sending it to the Zoo at the U."
The incoming correspondence found within the Bell Museum records at the University Archives contains dozens of letters that read to a similar effect. Not knowing the identity of a bird or animal captured, killed, or found dead, the fauna were often sent to the University of Minnesota, or "the Zoo at the U." Many times the package was sent "under separate cover" and thus did not accompany the letter in the post. In the case of the toad found at Willmar, it never reached the museum:
Thomas Sadler Roberts to Mr. Victor E. Lawson, Willmar Tribune, September 17, 1921:
"My dear Mr. Lawson, Your letter of some little time ago in regard to a "horned toad" came while I was absent in Itasca Park. My assistant at the Museum says that the specimen did not arrive and no one in the building has seen anything of it, so far as I can learn. Unless the toad escaped from confinement it would indeed be a rare find in your locality as it belongs properly in the arid regions far south."
Commonly, packages that contained deceased fauna were not addressed appropriately. As such, dead animals and birds would often "spoil" before they finally reached the Animal Biology Building and Roberts's office:
Thomas Sadler Roberts to Mr. M.C. Harroun, Kasson, MN, March 9, 1922:
"My dear Sir – The little mammal in the tin box sent by you to the Natural History Department of the University finally reached me after considerable delay, having been first sent to several other departments. It was therefore spoiled beyond any possibility of saving but was easily identifiable. It is a Common Shrew (Sorex personatus personatus) and is found all over the state being fairly common in most places…"
(I'd hate to be the office secretary in another University department who opened a package to find a dead shrew in it).
Some packages were not intended to be gifts, and were sent by individuals ill-informed about laws that governed the capture of animals and birds. A letter addressed to the "State University St. Paul" from A. Berby, October 21, 1921 provides an example of this case:

"Dear Sirs:

Am today sending you by parcel post an Eagle. I would like to have preserved in some way. Would like to hear from you whether it can be sold or how much it will cost to have it mounted. Thanking you in advance for all favors"
Thomas Sadler Roberts to Mr. A. Berby in reply, October 28, 1921:
"My dear Sir –

The Bald Eagle (an immature bird) was received at the Museum on Saturday, Oct. 22 after having gone to the Farm School as it was addressed to St. Paul. Your letter of the 21st inst. was not received until the 24th as it also went to St. Paul. The fact that your letter did not come with the bird caused a mix up… The weather was warm and the bird was in a fair way to spoil and as we have already four or five eagles and had no room for more and thinking that the bird had been sent as a donation to the Museum I called up the St. Paul Institute, which is at present making a collection of mounted birds and offered it to them. They accepted and the bird went to them and is being taken care of in St. Paul I suppose. Now this is a situation. What do you wish to do? If it has been mounted I suppose I can get it back by showing your letter and agreeing that you will pay the cost. The cost of mounting will probably be not less than $15 and perhaps more. Boxing and shipping will be additional. You speak of selling it. This you can do not legally as these birds are protected by law (both state and federal) and cannot be legally shot without a collectors permit from both state and U.S. I am sorry the way things turned but do not feel to blame as the bird would have spoiled before your letter came."
Not all "gifts" to the University spoiled before they reached the Animal Biology Building. Animals and birds received in good condition were prepared as specimens for the museum's scientific study collection.
Thomas Sadler Roberts to Mr. Frank Nute of Park Rapids, May 8, 1922:
"Dear Sir – I hope you will pardon the late acknowledgement of your letter of April 25th. and the two Rusty Blackbirds that accompanied it. The weather happened to be pretty warn at that time and the birds were spoiled almost beyond doing anything with them. But I saved the albino specimen as best I could, making a fair specimen of it for our study collection.

Please accept my thanks for your kindness and thoughtfulness in remembering the Museum in this matter. We are always very glad to get such unusual specimens and appreciate the attention of the donors…"