The Bell Museum of Natural History records contain more than just the administrative paperwork of a developing natural history museum. The collection also contains the personal papers of Thomas Sadler Roberts – the man who oversaw the museum in infancy and nurtured it through adolescence and into adulthood as Associate Curator and Director from 1915-1946. As such, there are several folders and boxes that contain correspondence and other items that are addressed to Roberts personally, and are not part of any official museum business.
Take for instance an entire folder of Season's Greetings – cards wishing Merry Christmas and Happy New Year sent from Roberts's colleagues and nature-focused friends. These friends included fellow members of the American Ornithologists' Union, curators, and coworkers, wildlife and nature lecturers, and "bird correspondents" – citizens of Minnesota, scattered throughout the state, who kept regular records of bird observations and notes on migration dates for Roberts. Rather than write to inquire about museum specimens, borrow lantern slides to illustrate lectures, or report the arrival of Bohemian Waxwings in Fairmont, the cards simply express best wishes and kind regards to a man well respected and much adored.
For the next few Mondays during December, we'll feature some of Roberts's received greetings and introduce you to some of the interesting people with whom he interacted with throughout his career.
Herbert and Lulie W. Gleason, Boston, December, 1931.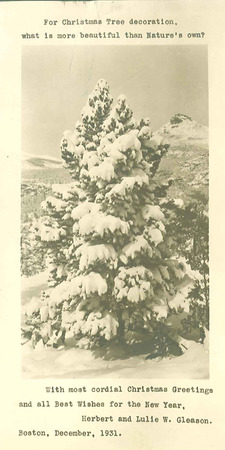 Reverend Herbert W. Gleason served in the ministry in Minneapolis and later edited a religious publication in Minnesota from 1883-1899. He developed a passion for nature photography (as did Roberts during that period), and later became a prominent natural history lecturer. Lulie, his wife, a talented musician and artist, hand-colored the lantern slides that Gleason used for his lectures.
Gleason accompanied Roberts on a trip to northern Minnesota in the summer of 1894. Both men had a passion for nature and bird collecting, and observed Blackburnian and Mourning Warblers, amongst other species on their trip. Though they did not go on any other nature trips together, as Gleason moved to Boston in 1899 to pursue lecturing, the two kept in contact for many years to follow. Their correspondence, which is contained in the incoming and outgoing correspondence in the Bell Museum records, recounts Gleason's fond memories of northern Minnesota, relays his travels through the Rocky Mountains, and describes his photographic equipment and lecture crowds.
For more on Gleason, visit the finding aid to his papers, which are preserved at the Concord Free Public Library, Concord, Massachusetts.
Walter J. Breckenridge and family, undated [circa 1938-1943]
Walter J. Breckenridge, or "Breck" as he was commonly known, was hired by Roberts in 1926 to serve as the museum taxidermist and preparator. For the next two decades Breckenridge created museum habitat groups and traveled extensively throughout the state with Roberts's "motion picture machine" making nature films. When Breck married his wife Dorothy in 1933, Dr. Roberts was an attendant at their home ceremony. Guess who their son "Tommy" is named after?
Though this Christmas card is undated, we can guess when it was sent to Roberts by looking up a few birth dates. Tommy Breckenridge was born in 1938, and the name of Breckenridge's third child, Barbara, who was born in 1943, is missing from the card.
The card, appropriately adorned with a vivid bird, was likely illustrated by the sender himself. Breckenridge was a talented artist, and painted many of the bird scenes found in Roberts's seminal 1932 book, "The Birds of Minnesota."
Following T.S. Roberts's death in 1946, Breckenridge was appointed Museum Director, and served in that role until 1970.