In Box 8 of the Bell Museum of Natural History collection resides a field notebook titled, "Trip to Western part of State, 1924." In this notebook, Thomas Sadler Roberts recorded bird notes on his two-week trip to Grant, Big Stone, Chippewa, Traverse, and Lac qui Parle counties in the summer of 1924. Accompanied by museum assistant William J. Kilgore, Jr. and Ned Huff, Professor of Botany at the University, the three gentleman photographed and filmed (with Roberts's "motion picture" camera) the flora and avian fauna of Herman, Clinton, Brown's Valley, Madison, and Montevideo. The glass plate negatives that were produced on their trip illustrate the notes that Roberts kept. In turn, the notebook provides much needed context for the images.
On Tuesday, June 24, 1924, Roberts's notebook begins with a report on the weather and a description of the start of the day near Herman, MN:
"After a cloudy morning with occasional sprinkles or rain it cleared off at noon and was fair and warm in afternoon…

Went out at about 9 a.m. at the Burrowing Owl nest… in a pasture by the Wheaton road and spent several hours digging out the burrow… It was a long hard job as the longer part of us digging was in dense fine clay…"
Burrowing owls nest in burrows that are likely dug out by mammals such as badgers or gophers. The owls collect mammal excrement to place around the burrow in order to attract insects, their primary food source. Roberts noted the presence of "rabbit pellets" near the opening of the burrow they were digging out in Herman.
Several young Burrowing Owls emerged from their nesting cavern on that day, and Roberts soon went about doing what he does best – staging birds in various poses.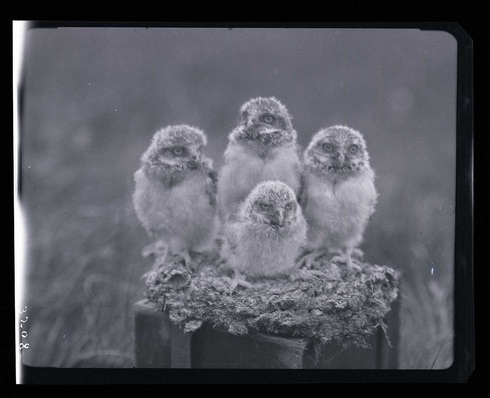 – Burrowing Owls, four young on box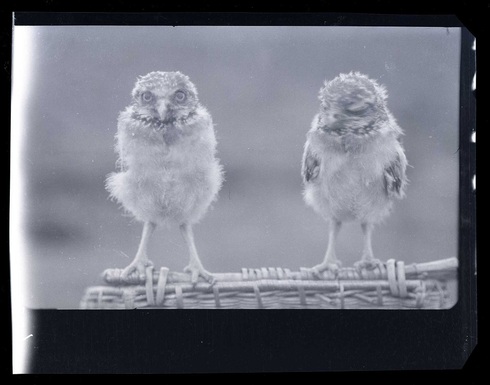 – Burrowing Owls, two young on creel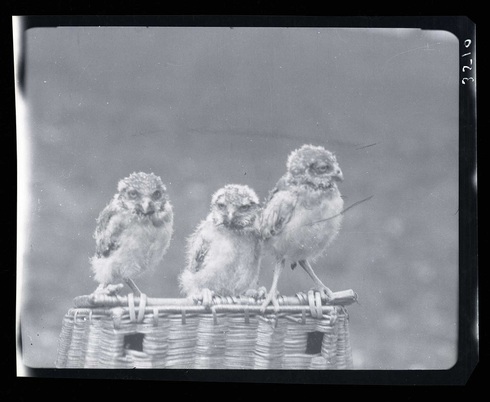 – Burrowing Owls, three on top of creel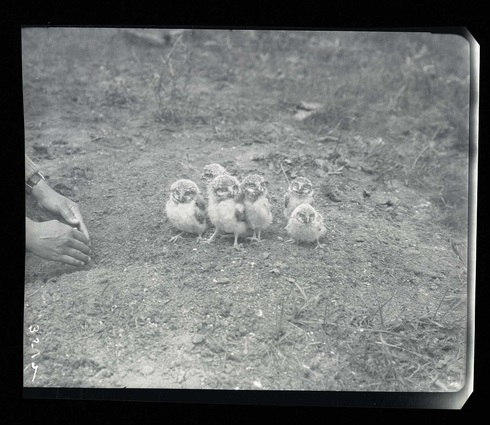 – Burrowing Owls, six on ground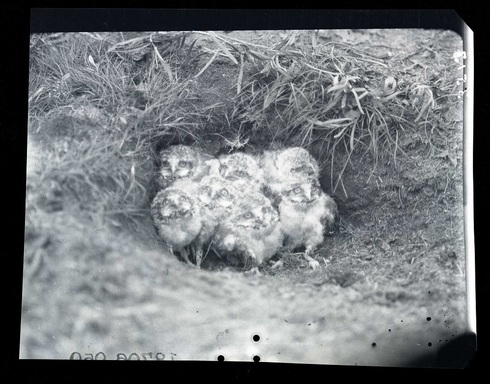 – Burrowing Owls, young at mouth of burrow

Roberts's entry concludes: "We took movies and graflex pictures of the young owls in… groupings and then brought them home for skins for the museum."

(The last part of his sentence provides more context than I wanted…)