In remaining completely predictable by staying in theme with seasons and holidays, you all were safe to assume that the topic of the Tuesday Tweet during Thanksgiving week would be TURKEYS. It's a "gimme," so to speak. As I geared up to write the post I thought, "This will be easy." Having completed the metadata entry for over 4,000 scanned images from the glass plate negatives in the Bell Museum collection, the majority of which are images of birds, all I would have to do is perform a keyword search for "turkey" and select the best picture from the results for the Tuesday blog post. However, as I soon came to find out – and much to my surprise – it was perhaps too easy.
Of the 5,000+ glass plate and film negatives contained within the Bell Museum of Natural History collection, there is only one image of turkeys: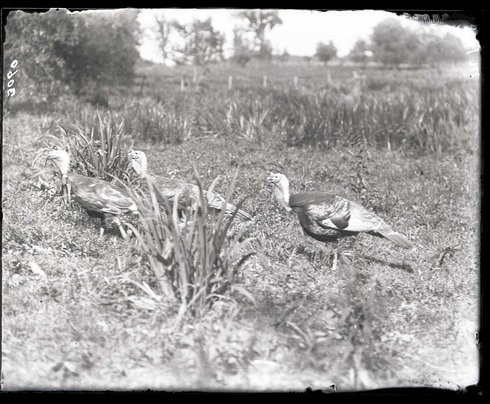 – Turkeys, reflex camera, Long Meadow Gun Club, undated

For more than 6 months I have worked with this collection and have seen thousands of images of birds. I couldn't believe that in all this time we had only scanned and captioned one measly turkey picture. My disappointment turned to hope when I reminded myself that we are still scanning this collection, there are still a few hundred images left. Surely there must be another image of a turkey amongst the negatives that are yet to be scanned! My hope didn't last for long. I consulted the subject card index for the collection, which contained only one entry: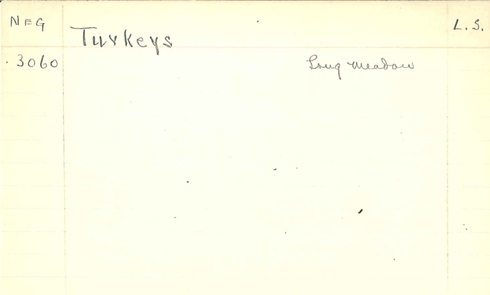 A significant portion of this image collection documents decades of bird study by prominent ornithologist Thomas Sadler Roberts. There are thousands of glass plate negatives that contain images of hundreds of different species of birds. What can we infer about the fact that there is only one image of turkeys in the entire collection?
Turkeys did not trip Thomas's trigger…