Ever since it was established as part of the Geological and Natural History Survey in 1872, the University of Minnesota's natural history museum has provided instruction to citizens throughout the state to promote understanding and appreciation of our natural world. Many examples of outreach and partnerships with similarly-focused organizations can be found throughout the history of the Bell Museum. Participation in the Training Course for Boy Scout Leaders in Forestry, Woodcraft, and Scouting is one example of museum staff lending their expertise to promote the outdoors.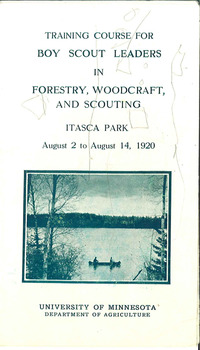 Organized by the University of Minnesota Department of Agriculture in partnership with the Boy Scouts of America, the Training Course for Boy Scout Leaders in Forestry, Woodcraft, and Scouting was held at Itasca State Park from August 2nd to 14th, 1920. The two-week course was designed to provide training in practical outdoor knowledge to the troop leaders of the Boy Scout organization.
As the brochure for the course stated, "The purpose of this course is to give scout leaders and prospective scout leaders an opportunity to obtain some knowledge of the outdoor world, to get at first hand, in the woods, some understanding of woods lore, and to appreciate the importance of such familiarity to the proper training of boy scouts and to boy scout activities."
A report from the correspondence files in the Bell Museum archival collection revealed that instruction was given in "trees, birds, flowers, cooking, first aid, knots, compass and map work, tree planting, astronomy, signaling, life-saving, games, swimming, boating, campfires, visits to Beaver dams and Cedar swamps, blueberry picking, special hikes." Thomas Sadler Roberts, State Ornithologist and Associate Curator of the museum, was one of the instructors. As outlined in the Tentative Program in the brochure, in between courses in "Mushrooms or Scouting" and "Swimming and Boating," the hours between 1:00 and 3:00 p.m. on Monday, Tuesday, Thursday, and Friday of the first week were devoted to bird study.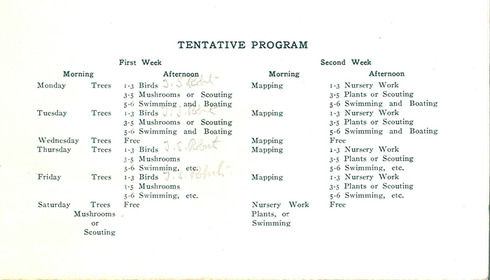 Eighteen scout leaders registered for the course that year. While in residence at the camp, Roberts captured the scout leaders in training: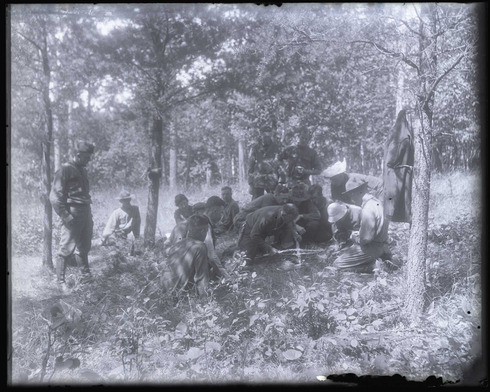 – Scout Master's Camp, Haddon making fire, Itasca Park, 1920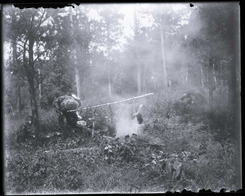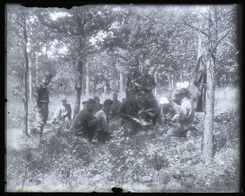 (l) – Scout Master's Camp, cooking
(r) – Scout Master's Camp, Haddon making fire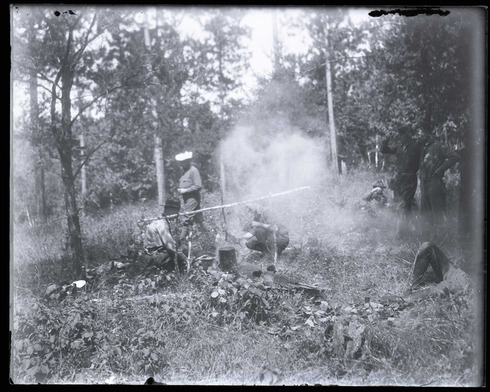 – Scout Master's Camp, cooking

The Bell Museum still participates in programs for Boy Scouts as well as Girl Scouts at the museum. Find out more about their current programs on the museum's website: Scout Programs.

View images from the training course brochure below: