This Saturday marks the 73rd anniversary of the dedication of the Museum of Natural History building on the corner of Church St. and University Ave. on the University of Minnesota – Twin Cities campus. The building was dedicated on Saturday, September 28, 1940.
Prior to the construction of the Museum of Natural History building, the museum resided in the Zoology Building, which used to be located at the corner of Church St. and Washington Ave. A gift of $150,000 from James Ford Bell, head of General Mills, and a grant from the Public Works Administration funded the new building.
On Friday, September 27th, the evening prior to the public opening and dedication, Bell held a private viewing of the building. A scrapbook from the Bell Museum of Natural History records, likely kept by museum director Thomas Sadler Roberts, includes an invitation to the pre-opening event: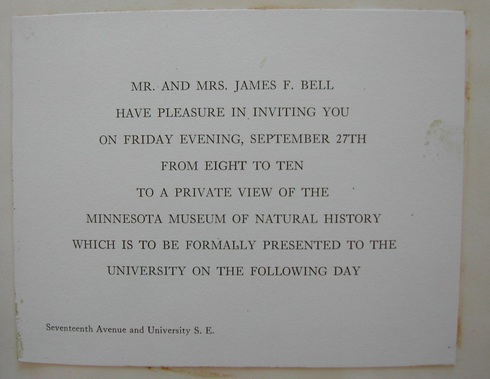 Images of the building, and of the private viewing, can be found in another collection at the University Archives – the James Ford Bell papers. This collection also contains a museum scrapbook that includes additional photographs, newspaper clippings, and other ephemera. Bell, a long-time supporter of the museum, not only funded a substantial portion of the construction of the building, but also financed the preparation and construction of many of the habitat groups displayed within the dioramas. To honor Bell's support, the museum was renamed the James Ford Bell Museum of Natural History in 1976.
Serendipitously, the Exploring project just so happens to be in the middle of digitizing the Bell Museum records, and we came across a treasure trove of materials that document the pomp and circumstance surrounding the dedication of the building that we will share in future posts. In the meantime, the Digital Conservancy contains a series of records already readily available online that tell the story of how the building came to be. An article in the June 3, 1939 Minnesota Alumni Weekly titled "The New Museum of Natural History" provides a comprehensive background. (The article is on page 89 of the pdf document.)
Enjoy these few images of Bell history, research the history of the building in the records of the Digital Conservancy, or better yet, visit the Bell and celebrate the anniversary of the building for yourself! The museum is open on Saturdays from 10am – 5pm.