In 1920, Warren Upham, contributor to the Minnesota Geological and Natural History Survey, published Minnesota Geographic Names, which included 15,000 names of locales and geological entities in the state of Minnesota. The current and third edition, titled Minnesota Place Names: A Geographical Encyclopedia, published by the Minnesota Historical Society in 2001, contains 20,000+ updated entries. If I ever lost my reference copy of this book, or if the companion website ever became inaccessible, my work on the Exploring Minnesota's Natural History grant would be extremely curtailed.
Why you ask? Here is my answer: Holmes Station, Reno, and Crooked Creek.
I'm currently working on entering descriptive information for two sets of image collections, the Department of Botany's photographs of the flora of Minnesota that were taken between 1899-1903, and the Bell Museum of Natural History glass plate negatives, the first portion of which is dated 1898-1900. Scanning is complete on the Botany images (2,272 in total), and we have reached the first 1,000 images scanned milestone with the Bell glass negatives.
Of particular concern in describing these photographs is capturing location data so that when the images are accessible online, they can be searched by city or region. For instance, those who are supporting the natural restoration of the Coldwater Spring area near Minnehaha and Fort Snelling, recently took interest in the Department of Botany's photographs of natural flora taken in the Coldwater Spring area from 1900.




– The front of an envelope that contains a glass plate negative, Bell Museum of Natural History collection.

The creators of both photograph collections were diligent in providing captions, and labeled the backs of the photograph mounts and envelope enclosures with names of species, dates, as well as locations of where the photographs were taken. Yet, locations don't always translate from 1900 to 2013. Even simple Google searches on some of the more obscure place names documented in the captions produced unwieldy results: a search of "Reno, MN" sent me straight to resources about or from Nevada. As anyone who has been the victim of a confused GPS navigational system, you may sympathize with this predicament. Just as I keep a road atlas in the back seat of the car for any length of travel, I keep MN Place Names at my desk to aid in documenting and describing the locales that our early state geologists, botanists, and zoologists traversed in documenting the natural phenomena of our state.
In August of 1900, the botanical division of the Minnesota Geological and Natural History Survey, to include Professor Conway MacMillan, A.S. Skinner, and survey photographer C.J. Hibbard, explored the Red River Valley region of Minnesota (Polk and Red Lake counties specifically). The party collected 325 specimens – 11 of "were gathered of which there have been no definite authentic collections previously reported from Minnesota" (from Minnesota Botanical Studies, XXXII. W.A. Wheeler, pg. 569). The photographs that Hibbard took during this excursion are present in the Botany photo collection, and include captions that read "Holmes Station." Search for "Holmes Station" AND MN and you get links to online digital Google Book versions of reports of the geological survey, and links to the Metropolitan Atlanta Rapid Transit Authority (in reference to the Holmes Station located in Georgia). Consult MN Place Names, and you will find that Holmes Station, named after Cyrus H. Holmes, the first post-master of Melvin village in the township of Onstad in Polk County, was the name of the Northern Pacific Railroad station at Melvin, which served as a trade center to the area in the early 1900s.
Botanical images taken near Holmes Station in Polk County: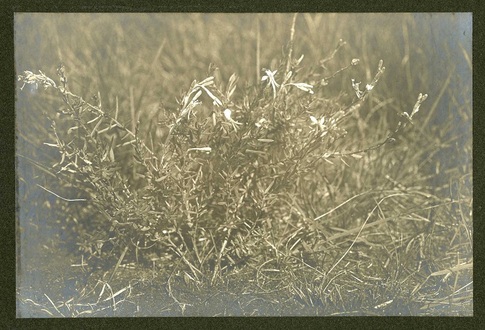 – Gaura coccinea (Scarlet Beeblossom), 1900, Holmes Station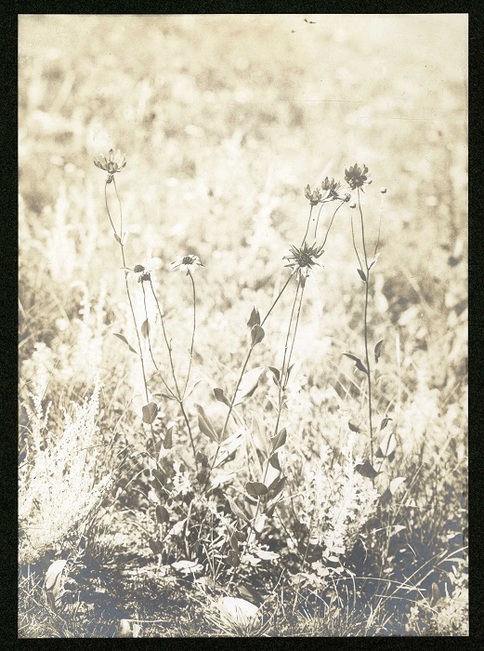 – Helianthus scaberrimus (Cheerful Sunflower), 1900, Holmes Station
The first several thousand glass plate negatives of the Bell Museum collection were produced by T.S. Roberts prior to his role as associate curator – and later director – of the museum. Roberts joined his avocation of photography and ornithology by spending many of his summers in the remaining years of the 19th century on field excursions documenting the bird life of various Minnesota regions. The envelopes that enclose the glass plate negatives produced during his 1898 trip to southeastern Minnesota include captions of "Red Wing" and "LaCrescent," as well as "Reno," and "Crooked Creek." As my MN Place Names tells me, Reno village in Houston County was named for Jesse Lee Reno, and was also once the location of a post office and of a railroad station. "Crooked Creek," is a creek that flows into the Mississippi River near Reno.
T.S. Roberts's images of bird life in and around Crooked Creek and Reno in 1898: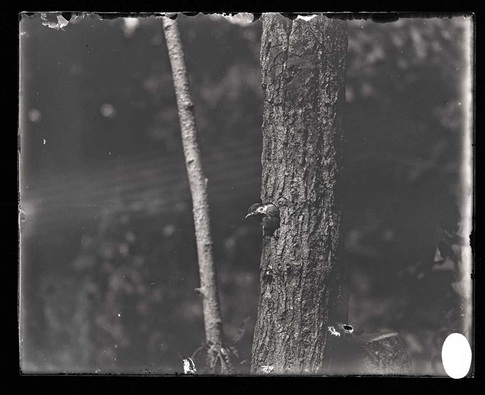 – Chickadee looking out of hole, Reno, Houston Co., 6/25/98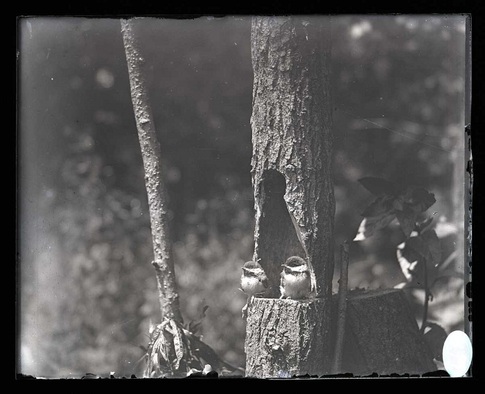 – Chickadee and young, Reno, Houston Co., 6/20/98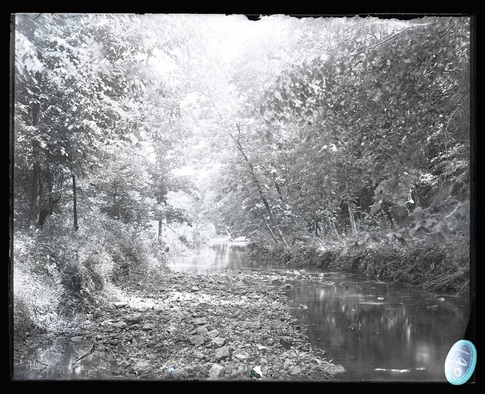 – View on Crooked Creek, Houston Co., 6/26/98