Welcome to Exploring Minnesota's Natural History – the blog. On the occasion of the launch of this project, and on our first Friday of blogging, it is only fitting that we share the first image digitized – our first flora.
From the collection of the Department of Botany, Box 17, photo 1: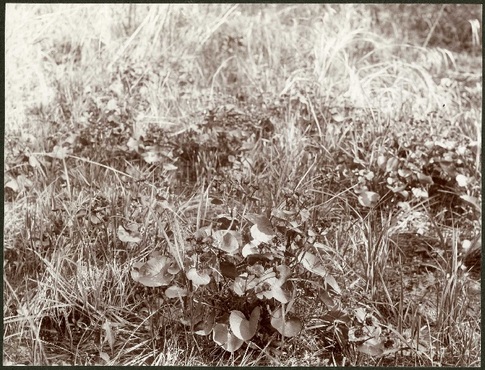 The entry on the master Photograph Ledger (Box 16) for photo (print) #1 is:
Caltha palustris, L. Calhoun, My '00." (Lake Calhoun, May 1900)
Find out more about the caltha palustris L. (or yellow marsh marigold) on the United States Department of Agriculture (USDA) PLANTS Profile.

A formal Department of Botany was established at the University of Minnesota in 1889. Today, it is known as the Department of Plant Biology. Stay tuned to the Exploring blog to view additional images of Minnesota flora (can you handle several thousands more?) and to learn more about the botanical work that was conducted at the University of Minnesota during the late 19th century.